Since the start of September, the international specialized pharmaceutical corporation "Yuria-Pharm" has launched social project "Protect your family from common cold" on the territory of Ukraine.
A special offer will be in effect throughout the duration of the program – a 52% discount on nebulizer Ulaizer™ Home will be given with the purchase of the kit by 1 check!
Recommended price of the kit: 919 hrn.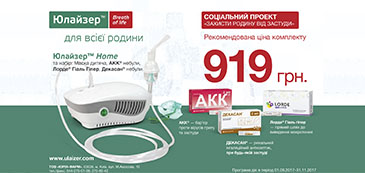 The kit includes:
Ulaizer ™ Home;
a children's mask;
AKK ® nebulae;
Lorde® Hyal hypernebulae;
Dekasan® nebulae.
The program will be held from September 1 to December 31, 2017.
Do not hesitate – purchase Ulaizer™ Home in advance with the necessary drug products at a special price!
TO PURCHASE THE KIT, FOLLOW THIS LINK.
TO READ THE OFFICIAL RULES OF THE PROGRAM, FOLLOW THIS LINK.
If you have any questions, please, call the hotline: +38 (044) 454-75-63 (calls from land-line phones throughout Ukraine (free of charge)).
Quick info:
AKK® is a barrier against cold and flue viruses.
Dexan® is a unique inhalation antiseptic, which is intended for any cold-related disease.
Lorde® HyalHyper is the direct route to sputum excretion.
Ulaizer – exactly aligned drug targets!