* till 01.11.2017 medicine was sold as Lorde Hyal Hyper
The first inhaled mucolytic of direct action!
Lorde® hyal 
Hypertonic 3% sodium chloride solution is a natural and safe inhaled mucolytic.
It also contains hyaluronic acid, for extra moisturizing and softening of the mucosa, as well as reducing the irritation caused by hypertonic salt solution when inhaled.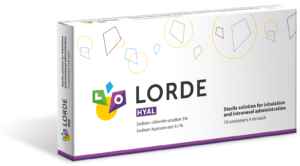 Composition:
1 ml of the solution contains:
Sodium hyaluronate 1,0 mg;
Sodium chloride 9,0 mg.
Sterile!
Dosage form: 4 ml single-dose containers.
Non-toxic! Natural, no preservatives!
It can be used from the first days of life!
Therapeutic indications:
Lorde® Hyal is indicated for patients with bronchitis, bronchiolitis, bronchiectatic disease and chronic obstructive pulmonary disease.
It is also used in acute and chronic diseases of the nasopharynx, nasal cavity and sinuses, adenoid hypertrophy in children, perennial and seasonal allergic rhinitis to reduce mucosal swelling, thin out secretions and facilitate breathing.
Over-the-counter drug!
Please read the instructions and check with your doctor before use.