* till 01.11.2017 medicine was sold as Lorde Hyal Iso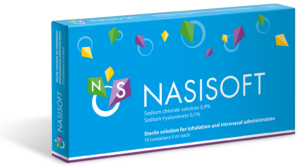 Isotonic sodium chloride solution is fully physiologic for a human!
It also contains hyaluronic acid, for extra moisturizing of mucosa.
Composition:
1 ml of the solution contains:
Sodium hyaluronate 1,0 mg;
Sodium chloride 9,0 mg.
Sterile!
Dosage form: 4 ml single-dose containers.
It cleans and moisturizes the nasal mucosa both in healthy individuals and in patients with inflammatory respiratory diseases. It can be used for daily hygienic care of the nasal cavity at any age – both in infants and the elderly.
Non-toxic!
Natural, no preservatives!
Therapeutic indications:
It can be used in infants, children and adults.
For hygienic care of the nasal cavity, and use in patients with diseases of the mucous membranes of the nose and paranasal sinuses, accompanied by dry nasal mucosa or production of mucus (atrophic, allergic, infectious, or drug-induced rhinitis).
As an adjunct to local vasoconstrictors.
To relieve the dryness of the nasal mucosa caused by being indoors, where air conditioners, including automobile air conditioners, or central heating radiators work, or due to long-range flights.
After surgical interventions in the nasal cavity and sinuses.
Also, it can be used to dilute inhaled drugs in accordance with the manufacturer's instructions.
Over-the-counter drug!
Please read the instructions and check with your doctor before use.